What You Need to Know About Chiropractic Care
If Chiropractic Care is something unfamiliar to you, the idea of getting an "adjustment" or hearing the phrase "spinal decompression" is probably a little intimidating.
Most of the time, intimidation factors in from not knowing exactly what something is.
Well, look no further: here is your comprehensive guide introducing the world of chiropractic care.
Article Table of Contents:
What is Chiropractic Care?
In order to understand chiropractic care, the first thing we need to learn is exactly what it is.
Definition:
Chiropractic care is a non-invasive, natural method designed to improve your body's well-being.
It is a medical practice that focuses on the relationship between the nervous system, spine, and the body's structure and function.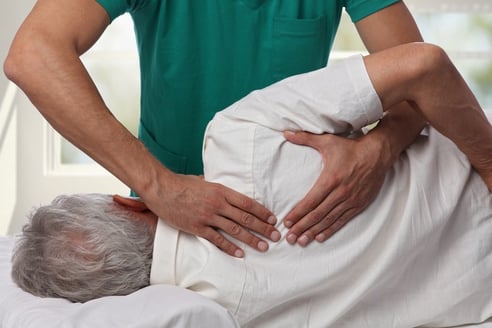 This practice is used to treat problematic nerves, muscles, joints, bones, and/or connective tissues. These problems occur in the body because of structural misalignments.
A way to correct these misalignments is through Joint manipulation, which helps to revive the full mobility of joints that have reduced movement due to a personal injury or chronic overuse.
The end goal of chiropractic care is to adjust and realign your body so it works the way it is supposed to, without any aches or pains.
How we get to that end goal, is through the act of various treatments.
Types of Chiropractic Adjustments and Treatments
The main form of treatment in chiropractic care is a manual adjustment.
An adjustment is a manipulation of the spine to help the functioning of joints and the nervous system; they are the main form of treatment.
During chiropractic care, mainly physicians treat pains with their hands, as the term "chiropractic" means "done with hands."
Additionally, chiropractors may use handheld instruments and devices to perform a treatment.
To target acute pain in specific vertebra or joints, doctors may default to a small, hand-held instrument called the Activator Adjusting Instrument. This tool delivers a gentle force to the spine to restore motion to affected vertebra or joints.
This is a safe, alternative method to a hands-only approach.
There are other forms of treatment that our chiropractors may use instead of or in addition to adjustments, such as physical therapy, rehabilitation exercises, and spinal decompression.
In addition to physical treatment, there are different lifestyle habits - like dietary choices, exercise routines, poor posture, or a sedentary lifestyle - these could also be affecting your injury, and recommendations for changes may be suggested.
Combinations of these treatments and lifestyle alterations will be discussed in your personalized treatment plan during your first appointment.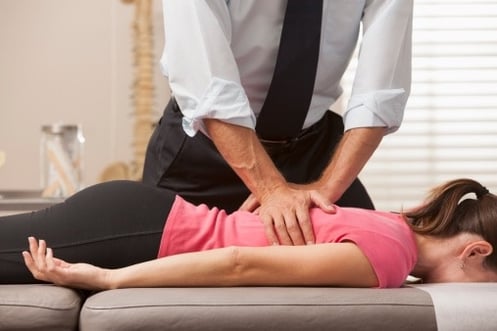 So let's expand on one thing...
Yes, that intimidating term that was very first mentioned above: spinal decompression.
Spinal decompression is a non-surgical procedure that uses a computerized traction device in the neck or lower back to distract spinal joints. Learn more about how Spinal Decompression works.
What Can Chiropractic Care Help With?
Depending on how your injury came about, whether it be through an automobile accident, personal injury, slip and fall, a work injury, or a sports injury there are different problems that can occur within your body.
Your chiropractor will diagnose your injury and then the following issues can be treated through chiropractic care:
Difficulty breathing
Headaches/Tension headaches
Herniated discs
Lower back pain
Neck pain
Numbness, pain, and/or tingling in arms, hands, legs, and/or feet
Sciatica
Shoulder blade/spine pain
Slips and falls
Whiplash
"The end goal of chiropractic care is to adjust and realign your body so it works the way it is supposed to, without any aches or pains."
What to expect on my first visit to a Chiropractor?
As a first-time patient to chiropractic care, the initial appointment can be a little intimidating.
But no need to worry...
There are a few things that you can expect during the first appointment with your chiropractor.
Review of health history: an in-depth, thorough overview of your medical history. It's imperative to share any and all knowledge of your previous medical history, so your physician can treat you the best way possible. It is critical to mention any and all symptoms you have been experiencing.
Routine diagnostic exam: This check-up includes blood pressure, pulse, and respiration testing.

In addition to the routine check-up, further testings may be recommended or required, such as a CT scan, MRI, x-ray, or other lab tests.

Review of cost and payment plan options: Be prepared with necessary insurance information; click here to see if we work with your insurance company.
Layout of treatment plan: Your diagnosed condition will be explained near the end of the initial visit; if your condition requires chiropractic treatment, your doctor will recommend an individualized treatment plan (a regimen customized to meet your needs based on your specific symptoms), and discuss the length of the intended plan.

Individualized plans may combine the use of spinal adjustments and other manual therapies and even approaches, such as:

Heat and ice
Electrical stimulation
Physical therapy
Relaxation techniques
Rehabilitative exercises
Consideration about changing diet or other lifestyle habits
Considering Chiropractic Care? Here's What You Should Know
If you are experiencing any of the above pains or problems, don't hesitate to contact one of our experienced Chiropractors at Florida Spine and Injury today.
Ready to take control of your health?
Click on the link below to take your first step towards readjustment and realignment today.