Best Chiropractor in Starke
Florida's Premier Personal Injury Doctors
Our Starke Spine and Injury Chiropractors have the skills required to treat the Complex Back, Neck and Joint injuries that often occur after Auto Accidents.
Our Chiropractic Care Clinic offers our patients Extensive Chiropractic Treatment Options, as well as legal connections.
If you are looking to take legal action against the at-fault party in your accident, our team of doctors can help you make the connections you need to recover financially as well as physically.
If you were involved in a Car Wreck, Motorcycle Crash, Truck Accident, Work Accident, Slip and Fall Incident, or any other type of accident in Starke, Florida, it is crucial that you visit a medical treatment facility with experience handling personal injury cases.
For a Free Consultation with one of our Personal Injury Chiropractors, fill out the form on this page or call (904)-368-0267 to make an appointment today.
What to Expect at Your Chiropractic Appointment
When you come for an appointment at our Car Accident Clinic in Starke, you will get the best Chiropractic Treatment available. Our Accident Injury Doctors provide treatment options that many clinics do not offer.
Our Experienced Medical Professionals have worked with car accident patients in Florida for many years, and provide the following services:
Neck Pain Relief
Car Accident Help
Physical Therapy
Chiropractic Care
Sciatica Treatment
Back Pain Treatment
Personal Injury Attorney Referral
What To Expect From Dr. Wolfersberger DC in Starke
Dr. Joseph Wolfersberger III is the leading Chiropractic Doctor at Starke Spine and Injury.
When you come in for your appointment, Dr. Wolfersberger DC will ask you questions about your accident and the associated pain you are experiencing.
Dr. Wolfersberger will listen to what type of pain symptoms you have, and will then create a custom designed treatment plan to help you recover as quickly as possible.
At your appointment, Dr. Wolfersberger may ask you to describe your pain in detail in order to create a Treatment Plan custom-designed for your injuries.
The doctor may ask you to:
Describe your pain (throbbing, burning, sharp, dull, etc.)
Explain how long and how frequently you feel pain.
Point to or describe where on your body you are in pain.
Identify activities or positions that improve the pain or worsen the pain.
When Dr. Wolfersberger has a better idea of the injuries you require treatment for, he will perform an examination to test your muscle strength, range of motion, and static motion palpation.
Additional Chiropractic Services at Starke Spine & Injury
After completing his physical assessment, Dr. Wolfersberger may order an X-Ray to more accurately identify the source and cause of your pain.
In some cases, Dr. Wolfersberger may order an MRI or CT Scan if he determines your injuries require these.
Keep in mind that any diagnostic test we order is for your benefit.
Starke Spine & Injury works hard to ensure that each patient has their best chance at a full recovery and these tests may be a helpful part of diagnosing your injuries. We know firsthand that effective healing begins with an accurate diagnosis.
After Dr. Wolfersberger completes a thorough examination and diagnosis, the medical team at Starke Spine and Injury will set up a specialized treatment program to give you your best chance at total physical rehabilitation.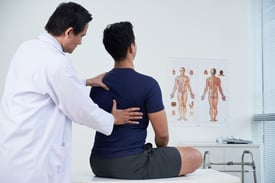 Your Custom Designed Treatment Plan may include:
Physical Therapy
Spinal Decompression
Chiropractic Adjustment
Sciatica Treatment
Exercise Therapy
Ultrasound
Treatment plans are different for each patient and are based on the type and extent of the injuries you suffered from.
You can expect that the treatment plan your doctor prescribes for you will provide optimal opportunity for your recovery and will be unique to your situation.
Experienced Personal Injury Treatment
Our Chiropractic Clinic in Starke, FL serves high numbers of accident victim patients who seek physical recovery. Because many of our patients are victims of accident injuries, our clinic has developed connections with local Personal Injury Attorneys to help our patients recover financially after an accident.
If you are interested, our Starke, FL Chiropractors will refer you to one of the Best Personal Injury Attorneys in the area to ensure you receive proper legal help after your accident.
If someone else was at-fault in your accident, you are entitled to receive financial compensation for your injuries. To ensure you get the compensation you deserve, it is essential that you seek medical attention from a doctor with accident injury experience.
Medical Professionals who understand Personal Injury Cases will ensure your injuries are properly documented for legal use.
At our Starke Clinic, we understand Personal Injury Cases and will provide your attorney with all of the medical documentation they require.
This documentation includes:
Detailed Records of your Injuries
Diagnostic Tests
Treatments Administered
Pain Assessment
It is crucial to your case that you give your attorney as much information about your injuries as possible.
This information will help your lawyer prepare the best possible lawsuit and demand letter for your case.
Schedule Your Free Consultation Today with Dr. Wolfersberger
Give yourself the best chance at a full physical and financial recovery by working with an experienced Personal Injury Chiropractic Clinic.
Our doctors can refer you to a trustworthy Personal Injury Lawyer and provide the medical documentation necessary for a favorable settlement outcome.
If you were involved in a Car, Truck, or Motorcycle Accident, or if you suffered injuries in a Slip-and-Fall or Work Injury, contact Starke Spine and Injury.
Our Starke, FL clinic offers Free Accident Injury Consultations, so schedule yours today by calling (904)-368-0267 or complete the form on this page.
Our Chiropractic Doctors are here to help you recover safely and quickly.