Car accidents can be traumatizing events, but there are still several things that you need to be done following an accident.
The absolute most important thing you need to do after a car accident is to receive medical attention.
Even if you don't think you are injured, it is still in your best interest to get checked out just in case.
After a car accident, you will likely have a rush of adrenaline, masking the symptoms of your injuries.
It's not until the adrenaline wears off that you will start feeling the effects of your car accident.
Some accident injuries, like whiplash, can take days and even weeks to start showing symptoms.
But for all severe injuries, you need to go straight to the emergency room to receive your care.
However, it will be in your best interest to visit a chiropractor for most other auto accident injuries.
We know for serious injuries you need to be treated right away.
But what about minor injuries, or injuries that have yet to show symptoms?
How long do you have to see a chiropractor after a car accident?
This question can be answered in two different ways; in terms of your health and in terms of a potential personal injury lawsuit.
We'll explore the answer to both sides in the article below.
Table of Contents
How Chiropractic Care Helps Car Accident Injuries
Chiropractors have specialized training that helps them assist the victims of car accidents.
Their training helps victims heal faster and keeps their issues from developing into something worse.
Your chiropractor will work with you to develop a treatment plan that will target the source of your pain.
Using spinal manipulations, your chiropractor will relieve your pain much faster than it would on its own, and without the use of harmful medications.
They will also restore your mobility. The stiffness you feel after an injury can decrease your mobility, but you will regain your mobility in no time with regular chiropractic care.
And chiropractic care will work with you to improve and promote your long-term health and ability to heal.
If you ignore the pain after your car accident for too long, it can lead to long-term damage and chronic health issues.
Car Accident Injuries To Look Out For
Perhaps the most prevalent car accident injury is whiplash.
Whiplash is a neck injury due to your neck being suddenly jerked back and forth during a car accident, similar to the cracking of a whip.
The severity of whiplash can vary, but the most common symptoms of whiplash are:
Neck pain
Headaches
Shoulder pain
Reduced range of motion in the neck
Arm pain
Blurred vision
Lower back pain
Neck stiffness
Dizziness
If there's a chance you're suffering from whiplash, you should seek treatment as soon as you can so your symptoms don't get worse.
And, once whiplash does begin to heal, internal scarring can occur. If a chiropractor isn't keeping an eye on your spine, ensuring your full range of motion returns before the scarring begins, spinal degeneration can occur.
You can even suffer whiplash in minor fender benders, so always seek medical attention.
Other common injuries to look out for after a car accident include:
Traumatic Brain Injury
Soft-tissue Injuries
Bruises
Lacerations
Fractures
Sprains and Strains
Concussions
Broken Bones
Fortunately, many of these accident injuries can be treated with prompt chiropractic care before turning into something worse.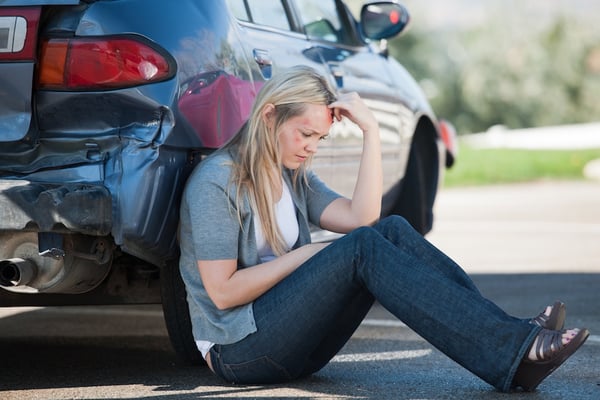 How Many Days After A Car Accident Should You See A Chiropractor?
The easiest way to answer this question is to say you should seek medical care as soon as you can.
However, as we touched on earlier, we can answer this question in a couple of ways.
But, as a good rule of thumb, you should visit the chiropractor within 72 hours of your motor vehicle accident.
Now we can expand on the answer to this question regarding your health and your personal injury claim.
Your Health
Your injuries need to be assessed, diagnosed and treated as soon as you can after your car accident, so your body can begin the healing process.
That should take place as soon as possible.
And again, just because you don't have immediate symptoms or your symptoms are very mild, it doesn't mean it can't or won't turn into something worse.
So regardless of your initial symptoms, seeing a chiropractor soon after a car crash is in your best interest.
Your Personal Injury Claim
If the negligence of another driver caused your car crash, you should seek chiropractic treatment within 72 hours of the accident, or you risk your insurance company discrediting the value of your case.
Your car insurance company will assess your personal injury claim following your accident.
If they notice a gap between when your accident occurred and when you decided to receive medical attention, they can drastically reduce the value of your claim.
They will make the argument that your injuries must not be serious, or the auto accident didn't cause them because you waited too long to see a doctor.
Depending on how long you waited, you might not be compensated at all for your injuries.
Make sure to see a chiropractor right away, but always do it within seventy-two hours.
Get The All-Natural Care You Deserve
The best thing about chiropractic care is that it is an all-natural, holistic treatment that gives your body the ability to heal itself.
Your chiropractor will do this without the use of painkillers with adverse side effects commonly prescribed by other practitioners, and surgery will also be a last resort.
Pain medication can be useful, especially if you are in a great deal of pain after your car accident, but it shouldn't be used to mask the pain without treating the underlying issue.
Every chiropractor understands that you have to treat the root cause of the pain to be truly pain-free.
Contact Florida Spine and Injury Today
If you've recently been in a car accident, and you're suffering from things like back pain, neck pain, or any other car accident injury, you should seek chiropractic treatment right away.
The chiropractors at Florida Spine and Injury can treat car accident victims and get them back to full health as soon as possible.
The Car Accident Chiropractors at Florida Spine and Injury have years of experience treating car accident victims using personalized chiropractic treatment plans to avoid long-term pain and restore the body's natural method of healing.
If you try to "tough it out" and ignore your injuries' symptoms, it can lead to chronic health issues, and it can also cost you thousands of dollars.
Florida Spine and Injury offers Free Consultations to all first-time patients, so there is no risk to get them to check you out.
To schedule your Free Consultation with Florida Spine and Injury, contact us today by clicking the button below.