The Best Pillows For Neck Pain
How many times have you got up in the morning after a long nights sleep only to feel like you slept on a slab of concrete?
Your neck is stiff, and you can barely move.
Sometimes it goes away pretty quickly, other times the pain lasts the entire day.
You have a hard time moving your neck at all, and when you do move it, pain shoots throughout your entire body.
To make things worse, your neck pain can cause headaches, ranging from a dull annoyance to a full-blown migraine.
It can also be responsible for backaches, sciatica, arm and leg numbness, and usually leaves people feeling irritable and tired.
Most people will blame their mattress when they wake up with neck pain, but your mattress is rarely at fault when it comes to neck pain.
Article Table of Contents:
When you wake up with neck pain, nine times out of ten, it's because you slept with the wrong pillow.
Sleeping with the right pillow is vital if you want to wake up without pain in your neck.
Below we will talk about five amazing pillows that will help you sleep tight, and wake up pain-free.
Top 5 Pillows For Neck Pain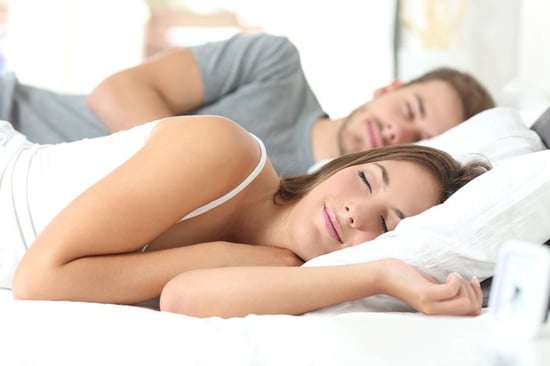 1. Mediflow Waterbase Pillow for Neck Pain
The Mediflow Waterbase pillow provides great support not only for your neck but for your back and head as well.
The Mediflow's inner water chamber is completely adjustable so you can get the exact amount of support and thickness you need, no matter how you like to sleep.
Johns Hopkins University found that the Mediflow Waterbase pillow was the best in its class, testing at the top of every category possible.
It works by allowing you to fill an inner chamber with water, making it a soothing waterbed for your head.
The outside is made of durable polyester that is hypoallergenic and very soft.
2. Shredded Memory Foam Pillow by Xtreme Comforts
This pillow is made from the highest quality shredded memory foam right here in the US.
It has a double airflow system with a vented bamboo cover that stays naturally cool. It also offers extreme flexibility, something not possible with a traditional memory foam pillow.
Once you shape it to your neck it keeps its position through the night, no matter how much you toss and turn.
The Shredded Memory Foam pillow is great for side sleepers, stomach sleeps, and back sleepers alike.
You can adjust the pillow to your exact needs and still enjoy the firm supportive comfort that will help alleviate any neck pain.
This pillow is also perfect for people who like to sleep with an arm or two under their pillow.
3. Classic Brands Conforma Memory Foam Pillow
Classic brands is a bedding industry staple.
They have a strong reputation for quality pillows, backed by an amazing customer service department to ensure complete satisfaction.
The Conforma Memory Foam pillow is a 5-inch thick foam pad that doesn't warp, break down, or flatten.
It will maintain its shape all night no matter how much you move and is wonderful for stomach and back support for side sleepers and pregnant women.
Even though it's just a single pad of memory foam, it has amazing air flow that keeps the surface of the pillow cool and comfortable.
If you suffer from allergies, a memory foam pillow is an excellent choice for you.
The material is naturally hypoallergenic and resists mildew, mites, and maintains proper neck alignment.
4. Chiroflow Premium Water Pillow
The Chiroflow Premium Water Pillow delivers smooth movement without bunching or flattening.
It's a great way to get complete support no matter what position you sleep in.
Because the water core moves along with you, you never have to worry about repositioning the pillow as you move around in your sleep.
This is a pillow often recommended by chiropractors and will make you feel like you're sleeping at a 5-star resort.
The Premium Water Pillow reduces neck pain because it has a firm, easy to use support base that you fill to your desired level of comfort.
Fill the inner chamber with tap water, and experience sleep the way it should be.
5. Shredded Memory Foam Pillow from Coop Home Goods
The Shredded Memory Foam pillow from Coop Home Goods delivers excellent flexibility and superior comfort that cradles your neck as you sleep.
The shredded foam lets you position the pillow any way you like and is perfect for side, stomach or back sleepers alike.
The proprietary blend of polyester and bamboo fabric of the cover won't absorb moisture and it increases the coolness of the pillow for the ultimate in comfort.
The material in this pillow is better than what you'll find in down or cotton filled pillows because the springy foam will always keep its shape.
Down or cotton pillows will flatten and won't keep your neck in the proper position, so you are more likely to wake up with neck pain.
Sleep In Comfort Without Pain
There you have it, a list of 5 pillows that will allow you to sleep comfortably, and wake up pain-free.
Hop online and order one of these pillows to give your neck the relief it deserves.
If your neck pain persists even after switching pillows, it may be time to reach out to a chiropractor. Chiropractors specialize in relieving neck pain. If you live in the greater Florida area, contact Florida Spine and Injury for a Free Neck Pain Consultation today.