Knee Pain and Neuropathy Treatment in Lakeland, Florida
Pain Relief Doctors in Lakeland, Florida
Ethos Health Group in Lakeland, Florida, are skilled at treating Knee Pain and Neuropathy.
We utilize advanced medical technology to help reduce pain symptoms for a variety of conditions to improve our patients' mobility.
If you are suffering from knee pain, neuropathy symptoms, or could benefit from physical therapy, our professionals at Ethos Health Group in Lakeland, FL want to help you.
If you would like a Free Consultation with the Best Physical Therapists and Doctors in Lakeland, Florida, fill out the form on this page or give us a call today.
Click on your condition to learn more about your treatment options in Lakeland.

Local Knee Pain Treatment in Lakeland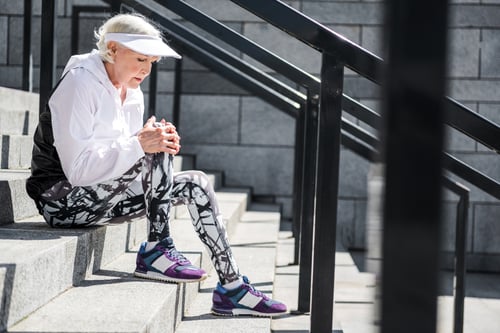 Chronic knee pain can make it challenging to get around. However, rather than face knee surgery or endure painful injections, many adults have learned to live with the pain.
If you are uncomfortable with needles or shots and want an alternative to surgery, knee pain treatment at Ethos Health Group offers an outstanding opportunity for people suffering from mobility issues.
We provide advanced knee pain treatment using a variety of medical techniques, including minimally-invasive injections that offer maximum results.
With advanced guided imaging technology, our doctors take the guesswork out of your treatment.
With this leading healthcare technology, our doctors can see exactly where they are inserting medication and can target your pain point precisely.
Our medical team administers minimally invasive injections into the knee joint at the exact point of pain for optimal results and peace of mind.
At our clinic, both you and your doctor will be able to see on a screen exactly where the injection will enter your knee joint.
The minimally invasive knee injections we administer help to restore lubrication and cushioning in your knee for lasting pain relief.
Guided Imaging Technology Provides:
Reduced Recovery Time
Targeted Relief
Minimal Treatments
At Ethos Health Group, our medical team doesn't believe in using endless drugs or cortisone injections just to get our patients through the day.
We believe in safe, lasting treatment and think painful knee surgery should be reserved for only the most severe cases.
If you can get better without surgery, we believe that is your best option and will help you throughout the rehabilitation process.
To view a video testimonial from an Ethos knee pain patient, click here.
Call (352) 433-0898 now or click the button below to schedule your free knee pain consultation. Treatment at our clinic is covered by Medicare and most health insurance plans.
Advanced Neuropathy Treatment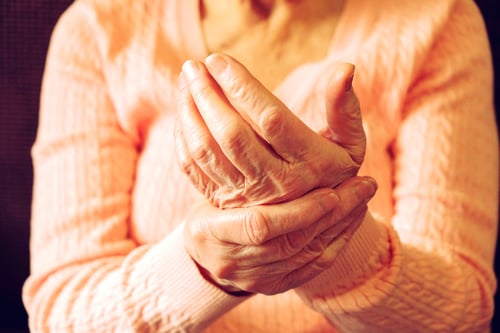 In a recent clinical study, researchers found that neuropathy symptoms in adults 55 years of age and older, including pain, burning, numbness & tingling sensations, can be reduced using natural treatment methods.
At Ethos Health Group, it is our priority to provide the best patient care possible. We use safe, non-invasive treatment methods to deliver noticeable results.
We utilize scientifically proven methods to help reduce peripheral neuropathy symptoms in our patients. Some of the treatment techniques we use include:
Infrared Light Therapy

Whole Body Vibration

Mild Electrical Stimulation
Click here to watch a video testimonial from an Ethos Neuropathy patient.
Tests Our Doctors May Order to Boost Your Neuropathy Treatment:
MRI Tests: An MRI can help to reveal the size, quality, and condition of your muscles to determine problem areas that may be triggering your symptoms. MRIs can help rule out herniated discs, tumors, or other abnormalities as the source of your pain.

Nerve Tests: Nerve condition studies are completed with a probe that sends electrical waves to the nerves. Electrodes are placed on the nerve's pathway and record responses. This test is used to record electrical activity in your muscles to detect specific levels of nerve damage.

Blood Tests: Many different health problems show symptoms that are similar to those of neuropathy. Blood tests will determine if vitamin and mineral deficiencies, diabetes markers, autoimmune conditions, or other indicators are contributing to your symptoms.

Additional Nervous System Tests: If needed, your doctor may order further tests, such as an autonomic reflex screening, a sweat test, and a sensory test that records your sensitivity to touch, vibration, and temperature.
The leading therapies we use at Ethos Health Group are aimed at blocking sensory pain signals and increasing circulation and. By helping to restore circulation, your damaged nerve tissue can begin to repair itself.
In addition to in-office treatment, we also provide our patients simple, at-home therapies so you can boost your recovery on your own.
Treatment at Ethos Health Group is covered by Medicare and most health insurance plans.
For advanced treatment that always comes with good, old-fashioned care, click the button below to get started with a Free Neuropathy Consultation now.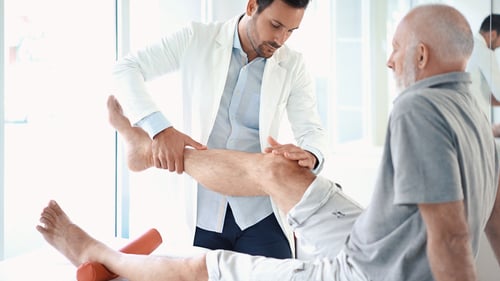 Physical Therapy for Pain Relief
Physical therapy can be an excellent medical solution for a variety of stubborn pain symptoms.
Different from addictive pain medications and invasive surgeries, physical therapy provides safe, effective pain relief through natural movement and strength-building exercises.
Our physical therapists can help to:
Improve your strength
Reduce pain symptoms
Increase your range of motion
Relax your muscle tissue and more
Boost your recovery time
Physical therapy treatment can help to minimize pain symptoms and mitigate long-term injuries for a variety of ailments.
At our clinic, you can use your Medicare Health Insurance and most other types of health insurance to cover the cost of your treatment.
Our Physical Therapists Commonly Treat:
Herniated, Bulging or Slipped Disk
Shoulder Injuries, Including Torn Rotator Cuffs
Ankle Injuries
Undiagnosed Back and Neck Pain
Spinal Cord Injuries
Knee, Hip and Thigh Injuries
For a great chance at a natural, gentle recovery, contact Ethos Health Group in Lakeland today. Call (352) 433-0898 or click the button below to get started.