Physical Therapy for Knee Pain and Neuropathy
Are you suffering from knee pain or neuropathy symptoms in Daytona Beach?
Many senior adults begin to develop mild to severe pain conditions over time but with all of the treatment options available, it isn't always clear which way to turn for medical care.
Some doctors recommend addictive pain pills or painful surgeries that can make the issue even worse.
At Ethos Health Group in Daytona Beach, we offer gentle, long-lasting alternatives to:
Pills that mask the pain
Surgeries with lengthy recovery times and uncertain outcomes
Whether it's golfing, gardening, playing with grandchildren, or simply taking the stairs, Ethos Health Group is here to help you get your freedom back.
Click on one of the following items to learn more.
Call (352) 433-0898 or click below to schedule your free consultation to discuss gentle, minimally-invasive treatment options for Knee Pain and Neuropathy.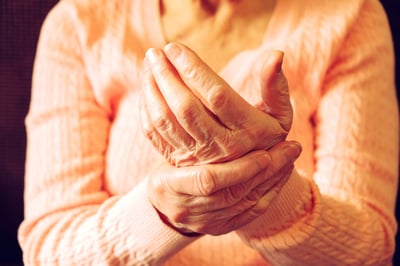 Common Neuropathy Symptoms we Treat
In a recent clinical study, researchers found that neuropathy symptoms experienced by adults 55 years of age and older can show improvement after certain natural treatment methods.
This includes relieving symptoms such as:
Pain
Burning
Numbness
Tingling Sensations
At Ethos Health Group, we provide our patients with the best care possible. This means safe, minimally-invasive treatment with noticeable results. Our team offers scientifically proven treatment methods to help reduce peripheral neuropathy symptoms.
Some of the treatment techniques we use include:
Infrared Light Therapy

Total Body Vibration

Mild Electrical Stimulation
Click here to watch a video testimonial of an Ethos Neuropathy patient.
Our doctors may order a variety of tests to boost your recovery and provide the best care possible. This may include the following:
MRI Tests: MRIs can help our medical team understand the size, quality, and condition of your muscles to determine likely causes of your neuropathy symptoms. MRIs can help to rule out tumors, herniated discs, or other abnormalities as the source of your symptoms.

Blood Tests: Neuropathy symptoms can be exacerbated by vitamin and mineral deficiencies, diabetes markers, autoimmune diseases and other conditions. Blood tests can provide a more complete picture of your health to ensure you get the medical care you need.


Nerve Tests: Our team may conduct a nerve condition study using a probe that sends electrical signals to your nerves. Our medical team will place an electrode on the nerve's pathway to record responses to electromyography. This test records electrical activity in your muscles to reveal specific nerve damage.

Additional Nervous System Tests: In addition to the tests listed above, our medical staff may order a sweat test, a sensory test, and an autonomic reflex screening to record your sensitivity to touch, vibration, and temperature.
The cutting-edge Neuropathy therapies we use at Ethos Health Group are aimed at increasing circulation and blocking sensory pain signals in the brain. By helping to restore circulation in your body, your damaged nerve tissue can begin to heal itself.
In addition to in-office treatment, we also offer simple at-home exercises and nutrition plans to help you boost your recovery from home.
Treatment at our clinic is covered by medicare and most health insurance plans.
If you are interested in advanced treatment coupled with good, old-fashioned care, click the button below to schedule your free therapy consultation for neuropathy today.
back to top

Advanced Knee Pain Treatment
If you are experiencing knee pain symptoms in the Daytona Beach area then Ethos Health Group can help.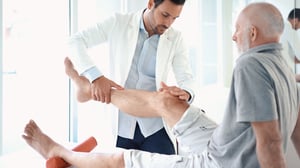 Our experienced medical team knows how to properly identify, diagnose, and treat your pain symptoms. With our physical therapy treatment, you might feel better than you ever imagined.
See what our knee pain patients are saying about treatment at Ethos Health Group.
A Physical therapist understands your knee joint, how it functions, knee injuries, and how to restore joint health back to your body. A physical therapist can help improve your range of motion, strength, and recovery time. Here are four main benefits of going to a physical therapist for knee pain:
Support Recovery process: When undergoing physical therapy your knee pain symptoms can ease up with each treatment strengthening your body and flexibility.
Prevent long-term damage: When PT's get the opportunity to work with a patient's injuries right away, it makes it easier to stop your body from healing wrong or creating more issues.
Reduce Pain: They keep you active which helps reduce the pain and stiffness.
Avoid Surgery: By working to strengthen your body and doing natural treatments your body has a better chance of recovering to its original state without surgery.
Overall your body has a better chance of recovery in a safe proactive way if you seek professional treatment as soon as possible. Physical therapy can also decrease your chances of re-injuring your knee.
back to top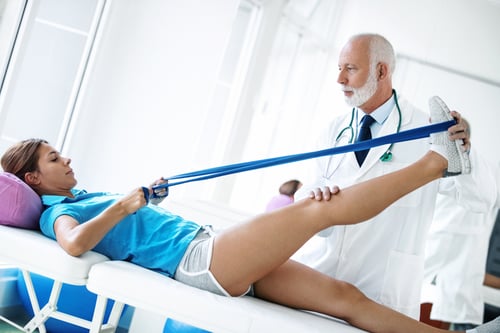 Best Knee Pain and Neuropathy Treatment in Daytona Beach
When you come into Ethos Health Group in Daytona Beach, our medical team will focus on the following goals for your treatment:
Relieving and managing pain
Improving physical function and movement
Preventing further injury
Increasing strength, endurance, range of motion and flexibility
If you are suffering from Knee Pain or Neuropathy Symptoms in Daytona Beach and want to find relief quickly, call Ethos Health Group now at (352) 433-0898 or click the button below to get started.